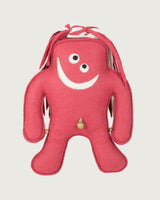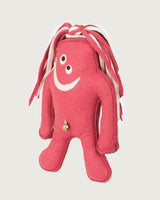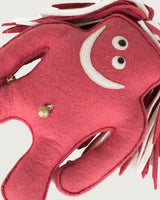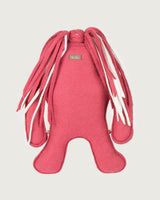 "Lumbum" the pink yeti is a lover of nature and flowers. Ritoma nomads are familiar with yetis and are quite sure that, unlike wolves, they will not snatch their sheep or yaks or eat their children. Spotting one is rare, since they are more elusive than marmots, and certainly less noisy. They are not nearly as big as described in European literature or have any history of frightening travelers. Yetis are friendly, shy and playful. They live in rocky areas high in the pasture and mostly keep to themselves.
100% yak khullu
Size: 20 x 30 cm
Weight: 150 g
Composition: 100% yak khullu
Care: Felt toys are best dry cleaned, but can be spot cleaned. Wet the area with cold water, rub in a small amount of delicate fabric detergent and rub in with circular motions. Rinse and allow to dry in the air, away from sunlight.
Provenance: Handfelted and handsewn at Norlha Atelier on the Tibetan Plateau using yak khullu sourced from local nomad cooperatives.
Shipping: All orders are packed with care and shipped from our atelier on the Tibetan Plateau.
Contact
Shipping & Returns
HOW TO WEAR IT
YOU MIGHT LIKE
RECENTLY VIEWED
MORE IN THIS MATERIAL