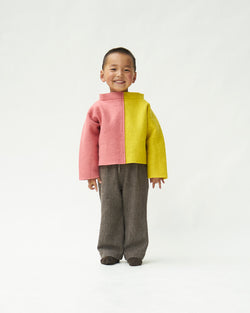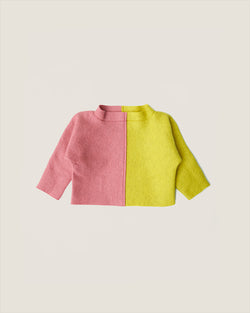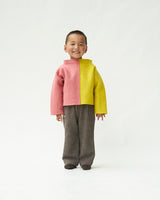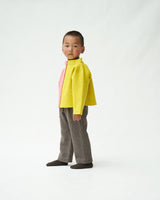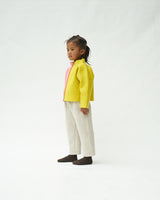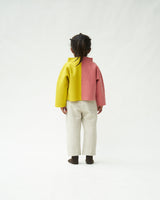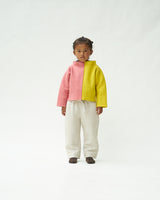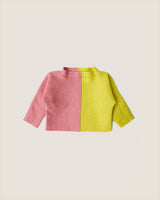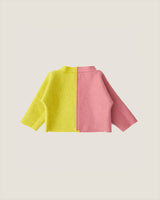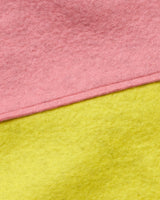 Child's Contrast Felt Jumper
This incredibly soft bicolour jumper is hand-felted in sun yellow and rosy pink. Its boxy cut and wide mock neck allow for easy movement, while its sleeves can be turned up or down, allowing for continued wear as a child grows.
The khullu used to make this jumper is an exceptionally rare fibre, as only one in every thousand yak possesses a white coat.
100% yak khullu
This item is currently available in size M, while sizes S and L are made to order. Please see the size guide to find your correct size.We produce limited numbers of each style to keep our manufacturing processes sustainable and to avoid overproduction. As every Norlha item is created and finished by hand by our small team of artisans, please allow two extra weeks when ordering made-to-order items.
Weight: 180 g
Composition: 100% yak khullu
Base colour: Natural White BaseCare: Dry clean only
Provenance: Handfelted at Norlha Atelier on the Tibetan Plateau using yak khullu sourced from local nomad cooperatives and wool from Tibetan highland sheep.
Base colour: Yaks typically have a dark brown coat, but they can also be found in grey and, very rarely, in golden brown and white. Our artisans work with all four yak wool shades, which are either left in their natural state, combined to create different tones, or dyed.
Technique: Hand felted and Hand sewn
Shipping: All orders are packed with care and shipped from our atelier on the Tibetan Plateau.
Contact
Shipping & Returns
HOW TO WEAR IT
YOU MIGHT LIKE
RECENTLY VIEWED
MORE IN THIS MATERIAL