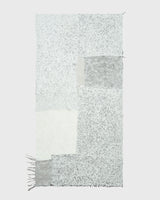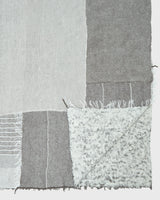 Celebrating craft and conservation, this limited collection of eight, individually numbered blankets marks the atelier's 16th. Created from unused sections of hand-woven fabrics and scarves that have been carefully saved and archived at the atelier since Norlha began. Each blanket is a patchwork of yak khullu and silk-blend fabrics which have been hand-felted with a thin layer of yak or sheep's wool before being hand-stitched together.
85% yak khullu, 15% Silk
Size: 120 x 225 cm
Weight: 700g
Finishing: Irregular edges
Composition: 85% Yak Khullu,15% Silk
Care: Eco dry clean only
Provenance: Handwoven at Norlha Atelier using yak khullu sourced from local nomad cooperatives and responsibly sourced silk from Zhejiang.
Base colour: Yaks typically have a dark brown coat, but they can also be found in grey and, very rarely, in golden brown and white. Our artisans work with all four yak wool shades, which are either left in their natural state, combined to create different tones, or dyed.
Technique: Hand-woven / Hand-Felted
Shipping: All orders are packed with care and shipped from our atelier on the Tibetan Plateau.
Contact
Shipping & Returns
HOW TO WEAR IT
YOU MIGHT LIKE
RECENTLY VIEWED
MORE IN THIS MATERIAL