Overfelt Prince Basket Scarf
This delicately textured scarf is made of 100% yak khullu. To create its double-faced design, Norlha artisans hand-felt soft, natural grey khullu to a loosely basket woven fabric. This felting process adds strength to the weave and creates a subtle textural and tonal variance.
Size: 50 × 175 cm
Weight: 180 g
Finishing: 2 cm matted fringe
Composition: 100% yak khullu
Base colour: Natural Grey Base
Care: Use a mild detergent or regular shampoo and carefully hand-wash by submerging in cold water for 10–15 minutes. Alternatively, dry clean or machine wash using the cold, delicate setting. Dry flat or on a clothesline away from direct sunlight; do not wring dry or tumble dry. To keep the fibre in optimal condition, gently steam iron. During the warmer months, clean and store your scarf in a ziplock bag, preferably with moth repellent.
Provenance: Handwoven at Norlha Atelier on the Tibetan Plateau using yak khullu sourced from local nomad cooperatives and responsibly sourced silk from Zhejiang.
Base colour: Yaks typically have a dark brown coat, but they can also be found in grey and, very rarely, in golden brown and white. Our artisans work with all four yak wool shades, which are either left in their natural state, combined to create different tones, or dyed.
Yak khullu: This scarf was made using the khullu of 2 yak. Khullu is the ultra-fine, downy undercoat that keeps yak insulated during harsh Tibetan winters. Each summer, the yak naturally shed this down, which is then carefully collected by hand.
Technique: Hand-woven / Hand-Felted
Artisans & Processes: A team of 15 artisans handmade this scarf at Norlha Atelier. During its production, it went through 13 highly specialised processes.
Shipping: All orders are packed with care and shipped from our atelier on the Tibetan Plateau.
Contact
Shipping & Returns
THE MAKING OF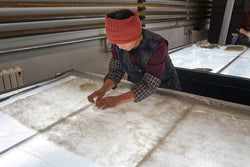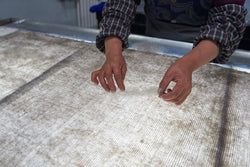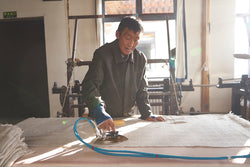 HOW TO WEAR IT
YOU MIGHT LIKE
RECENTLY VIEWED
MORE IN THIS MATERIAL