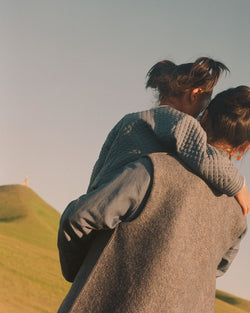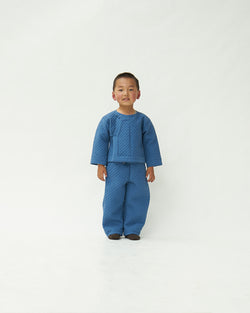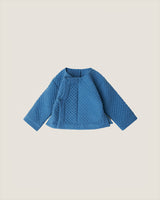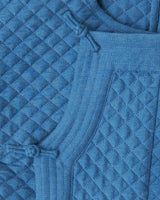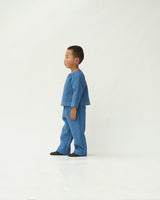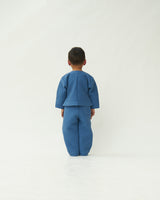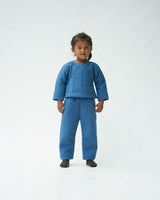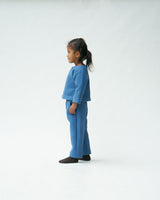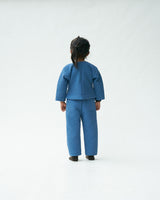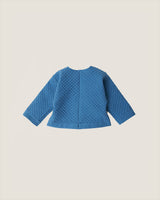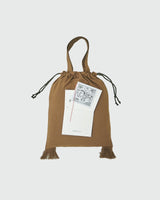 Children's Quilted Jacket
This jacket follows a traditional Tibetan folk pattern and is made from a padded and quilted yak khullu and silk blend. In a cropped, boxy cut, it features splits at the sides and back for ease of movement and is detailed with a parallel stitched border and toggle closure.
The khullu used to make this jacket is an exceptionally rare fibre, as only one in every thousand yak possesses a white coat.
This item is currently available in size M, while sizes S and L are made to order. Please see the size guide to find your correct size.
We produce limited numbers of each style to keep our manufacturing processes sustainable and to avoid overproduction. As every Norlha item is created and finished by hand by our small team of artisans, please allow two extra weeks when ordering made-to-order items.
Weight: 220 g

- Composition: 50% yak khullu, 50% silk
- Base colour: Natural White Base- Care: Use a mild detergent or regular shampoo and carefully hand-wash by submerging in cold water for 10–15 minutes. Alternatively, dry clean or machine wash using the cold, delicate setting. Dry flat or on a clothesline away from direct sunlight; do not wring dry or tumble dry. To keep the fibre in optimal condition, gently steam iron. During the warmer months, clean and store your scarf in a ziplock bag, preferably with moth repellent.
- Provenance: Handwoven at Norlha Atelier on the Tibetan Plateau using yak khullu sourced from local nomad cooperatives and responsibly sourced silk from Zhejiang.
- Base colour: Yaks typically have a dark brown coat, but they can also be found in grey and, very rarely, in golden brown and white. Our artisans work with all four yak wool shades, which are either left in their natural state, combined to create different tones, or dyed.
- Technique: Handwoven, Hand quilted and Hand sewn
- Shipping: All orders are packed with care and shipped from our atelier on the Tibetan Plateau.
Contact
Shipping & Returns
HOW TO WEAR IT
YOU MIGHT LIKE
RECENTLY VIEWED
MORE IN THIS MATERIAL