NORLHA WEAVES AND COMPOSITIONS
Discovering yak khullu, Norlha uncovered a hidden gem and revealed its qualities - warm, soft, and lasting in its pure form - and its versatile ability to seamlessly blend with other precious fibres - cashmere, silk, or fine wool - allowing the creation of a variety of textiles suited for all seasons.
Over the years, the Atelier has acquired an intimate knowledge of yak khullu, from spinning, weaving, felting and boiling, gradually mastering yet undiscovered techniques that allow for infinite creative possibilities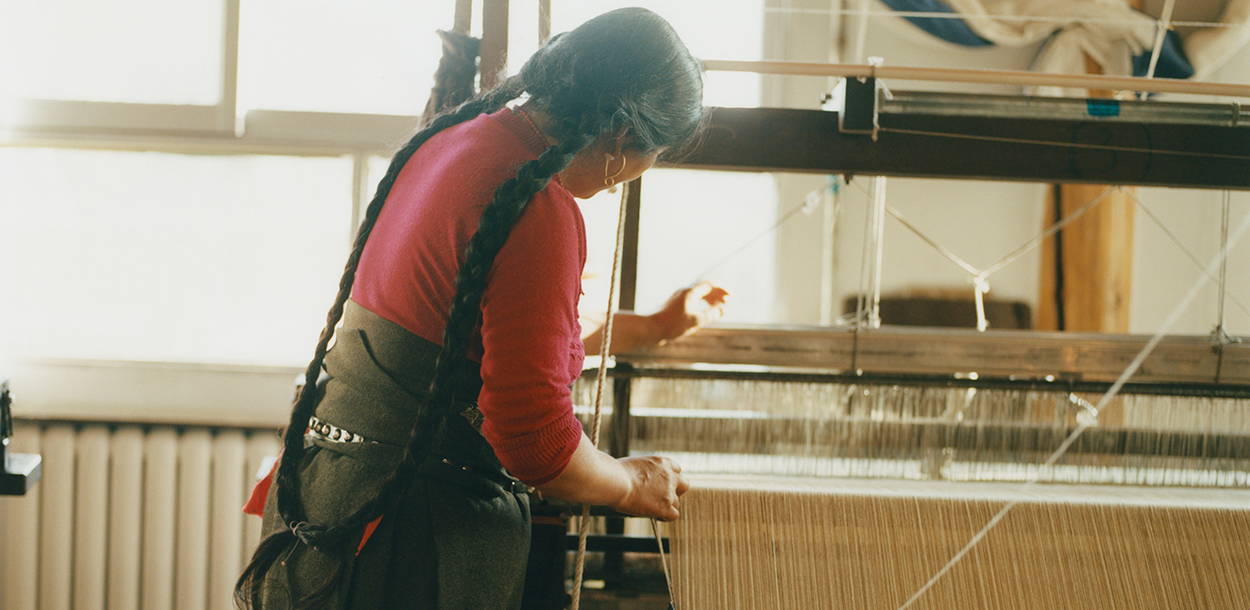 NOMAD —100% Yak Khullu
The Nomad family of weaves are Norlha's quintessential pieces; warm, dense, durable and enveloping.
NOMAD CLASSIC
The first piece to be created at Norlha Atelier, the Nomad Classic is the quintessential yak khullu weave. With a 100% yak wool warp and weft, its slightly rugged, densely soft weave is created by one artisan using a four-pedal loom.
NOMAD NET

A continuation from the Nomad Classic, the Nomad Nets is a looser weave, slightly lighter in weight and intensely soft. Developed by our master weaver using only two of the four pedals on the loom.
NOMAD DENSE BOILED

These Nomad pieces have undergone an additional process of boiling, transforming as their fibres expand and compress and creating extra tightness and density in the weave. A thick warm weave that is intensely soft and has a fleece-like touch.
PRINCE —100% Yak Khullu
The Prince family of weaves are Norlha's finest and lightest 100% Yak khullu pieces. Perfected by our master weavers over many years of experimentation, this exquisite weave offers incredible softness and gentle warmth and is delicate without sacrificing durability. Starting at half the weight of the Nomad, the Prince is appropriate for all seasons.
PRINCE TWILL & PRINCE HERRINGBONE
The Prince twill is woven in a classic twill, using natural brown wool in the warp and natural white in the weft. The double-faced design creates a subtle interplay of shades. The Prince Herringbone is woven in a subtle herringbone with an incredibly delicate thread that can only be woven by master weavers at the Norlha Atelier.
PRINCE LIGHT
Woven in a subtle herringbone, the thread is incredibly delicate and can only be woven by master weavers at the Norlha Atelier.
FEATHER — 50% Yak Khullu, 50% Silk
The Feather family combines 50% yak khullu and 50% silk and is the lightest of Norlha's weaves. Owing to the inherent qualities of silk the Feather has a subtle sheen and combines delicacy, protection and weightlessness.
FEATHER WATERFALL AND FEATHER RIPPLES
A softly textured yak khullu and silk-blend weave, the naturally pleated fabric is an effect created by the balance between how the yak wool and silk are woven together. The Feather Waterfall side panels have a higher concentration of silk, which tightens the weave, creating a smoother surface. The composition of these pieces has a light sheen owing to its high percentage of silk.
FEATHER LIGHT
The lightest weave within the Feather family, the Feather Light is left un ironed and has a lightly wrinkled aesthetic. Combining yak khullu and silk, the latter gives the weave an added strength, distinct softness and light sheen.
HANDSPUN— 100% Yak Khullu
The handspun family of weaves are Norlha's softest, warmest and densest pieces woven from 100% yak khullu. Following a spinning tradition that has been passed down among the women of the plateau's nomad communities for generations, hand-spinning is a process that requires incredible dexterity, speed and coordination, resulting in an unsurpassable quality of yarn.
OVERFELT
An additional process, overfelting lends a structured rigidity and added density to some of Norlha's classic weaves. Norlha's over-felt combines two techniques only achievable in an artisanal atelier: hand weaving and hand felting.